Washington, DC's thriving health and tech sector attracted new incubator to historic campus once dedicated to medicine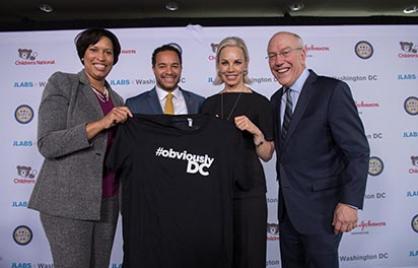 (Washington, DC) – Today, Mayor Muriel Bowser participated in a press conference at which Children's National Health System and Johnson & Johnson Innovation LLC announced a collaboration to launch "JLABS @ Washington, DC" at the site of the new Children's National Research and Innovation Campus on the former Walter Reed Army Medical Center campus in Ward 4.
"It's clear that Washington, DC has the talent, ideas, and passion to support a robust health care industry, biotech sector, and tech scene, and we are proud to welcome Johnson & Johnson as they join Children's National on the historic Walter Reed campus," said Mayor Bowser. "This combination of a world-class children's hospital and biotech incubator will drive discoveries that save lives, create jobs, and further strengthen DC's status as the capital of inclusive innovation."
At its new site on Walter Reed, JLABS, a premier life science incubator, will be part of Children's National transformation of 12 acres into a one-of-a-kind research and innovation hub to drive discoveries that save and improve the lives of children. The Children's National Research and Innovation Campus is part of the redevelopment of 66-acres of the former Walter Reed Army Medical Center campus, now called the Parks at Walter Reed, transferred to the District in 2016 by the U.S. Army.
"Children's National has been part of the fabric of Washington, DC and has cared for the children of our city for almost 150 years," says Kurt Newman, M.D., President and CEO of Children's National. "The commitment to innovation that we share with the city's leadership will benefit kids here and around the world."
"Johnson & Johnson has chosen a strong partner in Walter Reed and the District of Columbia," said Congresswoman Eleanor Holmes Norton (D-DC). "This partnership more than indicates that our efforts in the Congress were successful in making sure that a major property would be preserved for Children's National Hospital."
At today's press conference, Johnson & Johnson Innovation - JLABS also announced a QuickFire Challenge. Entrepreneurs with the best solutions or ideas will receive up to $150,000 in grant funding plus one year of residency and mentoring from the company. Washington, DC joins other national and international locations including San Diego and San Francisco, California; Boston and Lowell, Massachusetts; Houston, Toronto, New York City, Beerse, Belgium and Shanghai, China (opening June 2019). In 2017, Mayor Bowser, DC Council Chairman Phil Mendelson, and Ward 2 Councilmember Jack Evans toured the JLABS site in Toronto during a trade mission with Maryland and Virginia officials.
"JLABS comes at an exciting time for Ward 4 and Walter Reed, as it is undergoing a major renaissance which will bring new jobs and affordable housing to the community," said Ward 4 Councilmember Brandon Todd. "The addition of JLABS and its partnership with Children's Hospital is just the latest of many great things happening in Ward 4. Not only will our residents benefit from the new discoveries and breakthroughs that this incubator will bring, our neighborhood will be the center of research and innovation with this cutting edge new hub."
Over the next 30 years, The Parks at Walter Reed will generate 5,000 jobs, 2,100 units of housing, 432 of which will be affordable housing units, and nearly $1 billion in tax revenue. The project has already delivered several community-serving benefits: In February 2018, Mayor Bowser cut the ribbon on the DC Fire and Emergency Medical Services Engine Company 22 and in September 2017, the DC International and LAMB Schools opened in the former Delano Hall. In addition, Mayor Bowser broke ground on 80 affordable apartments for seniors and 77 units for previously homeless veterans in the former Abrams Hall as well as 390 new market-rate and affordable housing units in the first new construction on the historic Walter Reed campus at the corner of Georgia Avenue and Aspen Street, NW.
"Today's announcement is especially meaningful because the collaboration of JLABS and Children's National will be foundational part of what we are building on the historic Walter Reed," said Deputy Mayor for Planning and Economic Development Brian Kenner, whose office is overseeing the redevelopment of the campus. "The Mayor's vision for Walter Reed is to create a community where residents can live, work and thrive. This collaboration is a milestone in the progress at Walter Reed, and significant for our health care sector, our tech scene and residents across all eight wards."